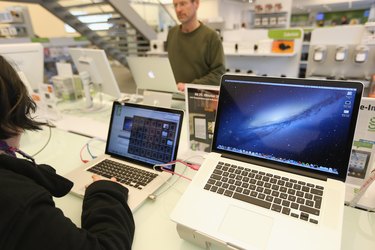 If you take pictures with a digital camera, you're familiar with the large size for each image after it is removed from the camera's memory card. If you want to print the pictures, you need to resize them before you send it to the printer. Windows comes with an application called Paint. Paint is a simple image manipulation application that allows you to resize your pictures
Step 1
Load Paint by clicking the Start menu, then going to All Programs, followed by Accessories. Load the image you want to edit by clicking File, then Open.
Step 2
Click "Image" and select "Resize / skew" from the list.
Step 3
Enter a width and height in the section labeled "Resize." The numbers represent percentages. If you want to make the image 50 percent smaller, for example, enter 50 in the height text box and 50 in the width text box. Press the "OK" button.
Step 4
Click on File, then Save to keep your changes. If you don't like the new image size, follow the instructions in Steps 2 and 3 to resize the image.
Step 5
Click on File, then Print to send the image to your printer.