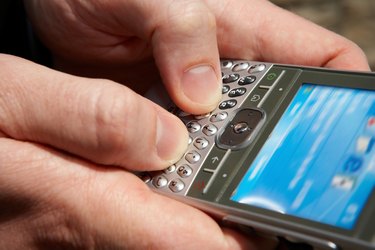 You can send photos to your cell phone from your computer, although photos taken with cameras are larger than those taken with cell phones. Resizing the image makes it easier for recipients to view the pictures on a phone and does not clog the cell phone's memory. There are several applications available to make the image smaller. You can use Image Resizer for Windows XP or the Windows Live Photo Gallery for Microsoft Vista. The most appropriate size for cell phone photos is 640 pixels in width and 320 pixels in height.
Size Pictures for Cell Phones with Image Resizer in Windows XP
Step 1
Open the folder where your pictures are located. From the "View" menu click "Thumbnail." Right-click the image you want to send to the cell phone, then click "Resize image."
Step 2
Check the size options available. The smallest option available is 640 into 480. Choose this, or for an even smaller size, click "Advance."
Step 3
Manually set the size in the Advanced menu. Type 640 pixels for the image's width and 320 pixels for its height. Click "OK." The original file remains in the folder while a new one with a different name and a smaller size appears.
Size Pictures for Cell Phones with Windows Live Photo Gallery in Microsoft Vista
Step 1
Locate the photo you want to resize.
Step 2
Choose "Resize" from the "File" menu.
Step 3
Choose the smallest size in the resize dialog box that appears. Choose "Resize and Save." Photo Gallery saves the resized file in the same location. Windows Live gives the photo the same file name (as the original photo) with dimensions added to it.
Size Pictures for Cell Phones with Microsoft Paint in Windows 7
Step 1
Select the image you want to resize. Right-click the photo, then choose "Edit." Windows 7 opens the image in Microsoft Paint (the default program).
Step 2
Click "Resize" in Microsoft Paint.
Step 3
Select pixels and then manually enter the photo's dimensions. Click "Save As." Give the photo a new name then save it to the destination folder.