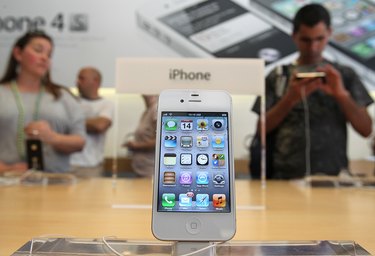 On a national scale Sprint and Cricket aren't really comparable, because Cricket is not a national mobile provider. Furthermore, Cricket uses Sprint's 3G network, making it an impractical choice if you're trying to avoid using one of the big three networks. However, Cricket is contract-free, tends to be less expensive and offers comparable features to Sprint's lower-end plans. If you travel often, Sprint is the more practical choice; however, if you chiefly plan to use your cellphone in your local area, Cricket may better fit your needs.
Cricket Plans
Cricket offers two standard mobile plans: its basic plan and the Talk + Text + Web plan. The basic plan includes unlimited calling to local and long distance numbers, caller ID, voicemail and unlimited text messaging. The Talk + Text + Web plan expands to include three way calling, call waiting and unlimited access to picture messaging, video messaging and 3G mobile Internet.
Cricket also has a basic smartphone plan and the Android Muve Music Plan. The stardard smartphone plan has most of the same features as Talk + Text + Web, with additional e-mail and application support. However, it limits 3G data to 1 GB per month. The only addition from the smartphone plan to the Muve music plan is the addition of unlimited song and ringtone downloads, as well video and ringback function. Prices for Cricket plans as of October 2011 range between $35 and $65 per month.
Sprint Plans
Sprint has five plan tiers: Basic, Talk, Everything Messaging, Everything Data and Simply Everything. Basic has 200 minutes with night and weekend calling starting at 9 p.m. Talk, Everything Messaging and Everything Data offer either 450 minutes or 900 minutes with a $20 per month upgrade, with nights and weekends starting at 7 p.m. Everything Messaging offers unlimited text and picture messaging, and Everything Data includes unlimited data access to that. As of October 2011 the pricing for Sprint plans ranges between $30 and $100 per month.
Types of Phones
Both companies offer a mixture of feature phones and smartphones of varying brands and models. Cricket's selection of phones is smaller, and it features two branded smartphones, phones by Samsung and Kyocera, and the BlackBerry Curve 8530. Sprint's selection of phones is much larger than Cricket's, and it features eight manufacturers: Apple, BlackBerry, HTC, Kyocera, LG, Motorola, Samsung and Sanyo. Both companies offer Android smartphones as part of their line-up.
Coverage
Sprint has fairly solid national coverage, getting most of the country from the east coast through the midwest with talk, 3G and 4G; the areas with the least coverage include Idaho, Nevada, Montana and parts of Alaska. As a regional carrier, Cricket is more limited in coverage, with the bulk the service centered around Michigan. This stretches into the northern half of Illinois, Indiana and Ohio and southeast Wisconsin. It also offers a solid amount of coverage on the east coast centered around the New York City area and in Florida. Coverage is patchy at best in the southeast, the midwest and the west coast, with almost no coverage in the Dakotas, Wyoming, Montana and Nevada.
Technology
Sprint and Cricket both use CDMA mobile technology. Most mobile carriers in the United States use CDMA, and as such it's got great support nationwide. However, CDMA doesn't use SIM cards like GSM. SIM cards store your phone and network data and can be easily removed from your phone, which tends to make GSM the better choice for convenient upgrades. Neither Cricket nor Sprint is particularly practical if you spend a lot of time abroad; in Europe GSM is the standard mobile technology.