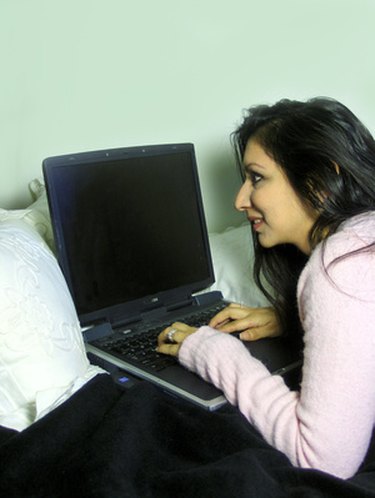 Since the Internet became popular in the early 1990s, individuals have connected and communicated with each other all across the world. Individuals often chat on the Internet with people they have never met in person. However, there are risks when you chat with strangers online, and it's important to understand the dangers of meeting people online.
Online Scams
There is a chance that the individual you are chatting with may be trying to scam you. For example, Online Dating Scams reports that overseas women often run scams on lonely men. They seduce the men online and then trick them into wiring money overseas. The men never hear from them again.
An individual you are talking to may ask for personal information. You have to be careful about the information you share. If someone requests your address or social security number, it becomes easy to steal your identity. Be careful, too, of individuals who ask for the passwords to your e-mail or other online accounts; these individuals may be trying to download a virus or use your e-mail to scam others.
Pedophiles
Talking to people online can be especially dangerous to children. According to an MSNBC investigation, older men and pedophiles browse online forums to meet younger girls and children. Even if you tell an individual only your name and the town you live in, he may still be able to track you down.
Older men can also try to convince younger girls to meet in person for the purpose of sex. In the MSNBC investigation, men were tricked into thinking the girls they talked to were minors and willing to have sex with them. In only two and a half days, 18 men showed up to break the law with these girls. They were confronted instead with a TV news crew and brought to the police station.
Exposing Pictures
The individual you are talking to might convince you to send some pictures of you exposing yourself. These pictures are then sometimes released onto the wider Internet. This kind of exposure is not only embarrassing, it may put your job and your future at risk. Be careful of any individual that you are talking to online who requests inappropriate pictures from you.