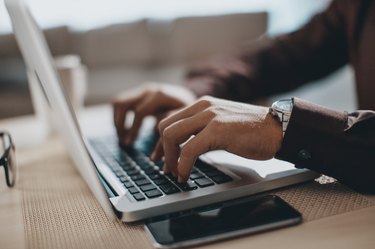 Craigslist provides a valuable marketplace for selling and buying products or services. However, while it may have replaced newspaper classifieds as a popular way to trade locally, it isn't free from scams. If you encounter a possible scam on the site, report Craigslist scammers by contacting the site and, if necessary, the police.
Craigslist Fraud Reporting
The easiest way to report Craigslist scammer activity is to click on the flag icon at the top of every listing. This alerts the Craigslist team to give it a second look. When multiple users flag a post, it may qualify for automated removal.
In addition to flagging the post, you can contact the site directly. This action is particularly important when you see an ad that you feel may be connected to a known scam. These known scams are likely already on the Craigslist scammer list, and the company can investigate and take action if it is warranted.
If you're a victim of a Craigslist scam, you may want to get in touch with your local police department. It can pursue criminal charges and possibly help you recover any money or items that were stolen.
Types of Craigslist Scams
Several types of posts can land a user on the Craigslist scammer list. Understanding them is key to knowing when flagging is appropriate.
Harassment: Your correspondence with Craigslist members should be limited to the transaction. If a user is harassing you, contact Craigslist.
Requests to wire funds: Wiring money has always been risky, long before Craigslist, but if cash doesn't suffice, question why.
Overposting: Anyone who is flooding the site with posts is a likely candidate for the Craigslist scammer list. Craigslist asks members to flag these posts.
Requests to pay in advance: Craigslist recommends only paying after meeting the seller in person. If someone asks you to pay in advance, no matter how the payment is requested, report it.
Referencing Craigslist voicemails: There is no such thing as Craigslist voicemails, but a known scam directs members to check these fake messages. Use the Craigslist fraud-reporting tools to report the request.
Avoiding Craigslist Scams
Although reporting Craigslist scammers helps other members, it's best if you avoid scams from the outset. To keep yourself safe, use Craigslist fraud reporting tools and stay alert. Craigslist safety tips include:
Meet face to face. All transactions should be conducted in person with payments made in cash. If it's a high-dollar transaction and you're the buyer, request that the seller meet you at your bank and deposit the funds before handing over the item. This protects you from counterfeiters.
Refuse to deal with third parties. You should only agree to work with the Craigslist member who placed the ad, or – if you're the seller – who contacted you about the ad.
Refuse to buy items sight unseen. No matter what the cost, refuse to pay for items until you've checked them out. If you're buying a car, consider having it taken to a trusted mechanic who can look it over before you buy it. This extra step is well worth the trouble if it prevents you from buying a lemon.
Never give out your financial information. Don't share your PayPal account information, Social Security number or bank account information.
Don't agree to credit checks. Refuse background and credit checks until you have met the person you are dealing with in person.
Craigslist advises that users who deal locally, face-to-face, avoid 99% of all scam efforts.