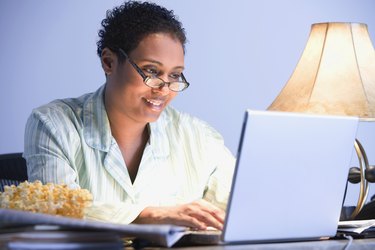 Now that you have found the item you want to purchase or the apartment you want to rent on Craigslist, you need to respond quickly to the post. Craigslist presents a reply button on every posting for contacting the poster. Some Craigslist posters include their contact information in the ad, such as a phone number or email address. However, many users use an anonymous Craigslist-generated email address. Using this two-way email relay protects both parties and is the default option.
Contact Poster
While viewing the classified ad you want to respond to, click Reply in the upper left corner to display window with response options and the poster's preferred contact method. Choose to reply with your default mail program or use the Web mail links for Gmail, Yahoo, Hotmail or AOL mail. To use an alternate email program, copy and paste the address into your own email. Even if the poster listed a phone number in the ad, contact him via email if that is his preferred contact method.
Use Email
Craigslist uses a two-way relay email address system, so although the address you see appears as example@sale.craigslist.org, the email you send is relayed to the poster's actual email address. The recipient will see an email address such as example@reply.craigslist.org instead of your personal email address. However, the real name field in your email program is passed through to the recipient, so he may see the name you have listed.To avoid this, use an alternate email address that does not contain your name and make sure the real name field is empty.
Respond Quickly
If you are searching for a good deal or looking for an apartment, you'll want to contact the seller quickly to have the best chance. If you have any questions for the seller about the condition of an item or details about an apartment, include these in your initial email. If you are responding to a job posting, either write your cover letter in the body of the email or include it with your resume as a PDF attachment. The poster is likely receiving many emails, so be polite and concise. He may also have multiple listings running, so be specific about the item, apartment or job. If the poster writes back to you, respond quickly to avoid being disregarded.
Negotiate Price
If you have done your own research on an item or apartment and feel the asking price is too high, you can negotiate with the seller or landlord. In your email, ask if the poster would consider a lower amount. Do not agree to rent an apartment sight-unseen. Arrange a time to view the apartment when you can bring a friend along for safety. Do not give out your personal information in your email response. The poster has no reason to ask for your home address or financial information. Be safe and arrange a public meeting or take a friend with you to the seller's house.
Avoid Scams
Scammers prey on Craigslist users, so stay alert and use common sense. Deal locally and meet face-to-face to avoid most scams. Scammers often send vague initial email inquiries or do not live locally. Do not wire funds or accept cashier's checks, certified checks or money orders. Never agree to ship items, receive items via shipment or purchase anything without seeing it first. Always use common sense and meet face-to-face, ideally with a friend or family member, for safety.