If you open a wedding invitation that includes RSVP information but is missing a response card, don't panic. Instead, log in to your email account and send a quick message to indicate whether you plan to attend the wedding or not. Additionally, it's acceptable to respond to an RSVP by email if you neglected to fill out the response card in a timely manner and want to ensure that your hosts know your intentions.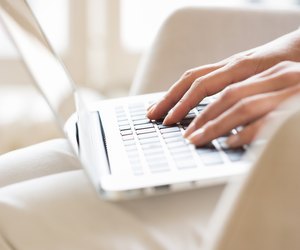 credit: LDProd/iStock/Getty Images
Formal or Informal Language
If you don't have a close relationship with the couple who are getting married, it's suitable to write a formal response that mimics a standard RSVP response card. Indicate your name and the name of your guest and whether you plan to attend. For example, "Mr. and Mrs. Rob Smith accept with pleasure your kind invitation for the celebration on July 18." If you cannot attend, replace "accept with pleasure," with a line such as "regret that they'll be unable to attend." If the invitation is from a close family member or friend, an informal response is ideal. For example, you might write, "Dear Mike: We're thrilled to be invited and can't wait to celebrate with you." It's proper etiquette to always respond to an RSVP as quickly as possible upon receiving it.