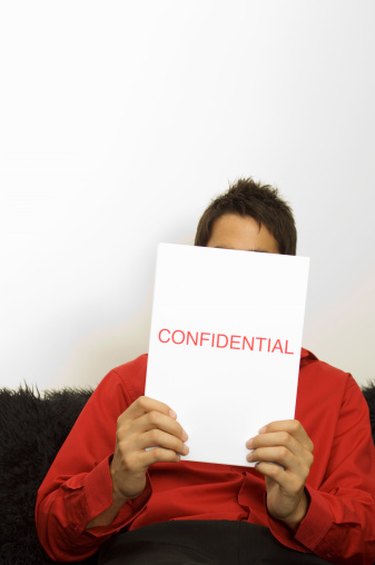 Just as quickly as you're able to dash out a quick email, that email may be forwarded, posted, uploaded and shared with countless other recipients. Express your desire to contain the information you send with a confidentiality notice included in the email signature, which comes at the bottom of the message. Use Microsoft Outlook's signature creation tool, where you're able to add confidentiality messages to existing signatures, to provide an extra layer of security to your email.
Step 1
Open Microsoft Outlook. If the "New E-mail" button is not showing on the left side of the ribbon at the top of the screen, click the "Mail" link at the bottom-left of the screen. Then click the "New E-mail" button to open the "Untitled – Message" window.
Step 2
Click the small drop-down arrow under the "Signature" button on the message's ribbon. Click "Signatures" to open the "Signatures and Stationery" window.
Step 3
Click the signature in the "Select signature to edit" list to add the confidentiality message. The signature's existing text opens in the body part of the window.
Step 4
Click below any existing signature, such as a name and job title. Type the confidentiality message, such as a copyright date and wording about not sharing, printing or forwarding the message.
Step 5
Format the confidentiality text to make it stand apart from the rest of the signature by highlighting that part of the text. Pull down the font menu and choose a new font, apply italics or bold type to the message and pull down the "Automatic" font color menu and choose a new color.
Step 6
Click the "OK" button to save the confidentiality message, close the "Signatures and Stationery" window and return to typing the email message.