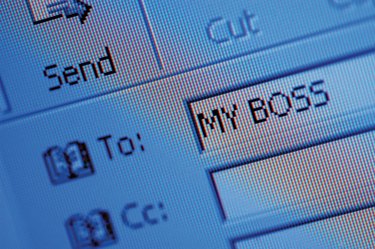 Gmail is a Web-based email service offered by Google. Anyone can set up an account and get his own email address. To use Gmail, you navigate to the Gmail log-in page using any web browser, such as Google Chrome or Mozilla Firefox, and sign in. You can edit, send and receive emails from right there inside your browser window. Editing emails in Gmail is as easy as typing in a text editor.
Step 1
Sign into your Gmail account.
Step 2
Click on the "Compose mail" button on the left side of the screen, below the Gmail logo and the Mail, Contacts and Tasks links. You can also open a draft of an email that you already started but didn't send, using the "Drafts" link in the list below the "Compose mail" button.
Step 3
Edit the email freely by clicking inside each of the white fields and typing. You can change the recipient by editing the "To" field at the top. You can also edit the text in the Subject line using the field below that. And, of course, you can edit the text of the email itself by clicking in the large field in the center.
Step 4
Click on the "Send" button at the bottom when you are finished editing to send your email on its way. If you are not going to finish now, you can instead click on "Save Now" and continue editing at another time.