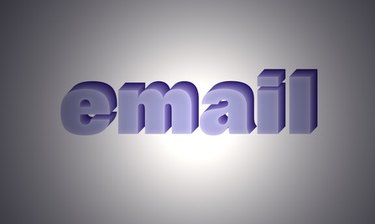 Yahoo! Mail is a free email service that offers unlimited mail storage, a calendar, SMS messaging, keyboard shortcuts and an integrated instant messenger. Another feature of Yahoo! Mail is a built-in search tool that allows users to search for a particular email by entering in key terms from that email into the search field. The Yahoo! Mail website and the categorized folders make it easy to check your Yahoo! Mail history.
Step 1
Log in to your Yahoo! email account, using your Yahoo! ID and password.
Step 2
Perform a thorough search of your entire email history by entering key terms that may be within the text of the email. Enter the words in the text field next to "Mail Search," then click on the "Mail Search" button to look for emails with those words. Yahoo! Mail will search through all the folders and look for those words in every part of the email, such as the sender line, subject line and body.
Step 3
Check the history of your incoming mail by clicking on "Inbox." The emails are in chronological order, with the most recent on top.
Step 4
View saved drafts that you haven't sent yet by clicking on "Drafts." A list of unsent emails will appear. If you want to finish an email, click on it, finish the draft and click "Send."
Step 5
See a list of emails that you've sent by clicking on the "Sent" folder. If you no longer need an email in that folder, open the email and click "Delete."
Step 6
See what sort of spam mail you've been receiving by clicking on the "Spam" folder. If you're not interested in checking your spam mail history, click on the "Empty" option to the right of "Spam" from the main mail page. This will send the spam mail to the trash folder.
Step 7
View your deleted mail by clicking on the "Trash" folder. To permanently erase your deleted mail history, click on the box to the left of the flag icon, then click on "Clear All."