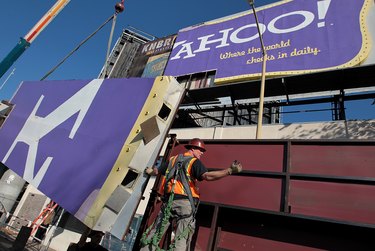 Yahoo! Mail has many features to assist users in archiving, retrieving and managing their email. Whether you use All-New Yahoo! Mail or Yahoo! Mail Classic, many of the steps to recovering sent emails are the same. Here's how to restore your messages to your Sent folder.
Step 1
Make sure your email account is set up to "Save Sent Mail." Do this by going to the "Mail Options" menu on the top right-hand tab of your email screen. Select "General" settings. Look for a check mark on the line reading, "When sending messages: Save a copy of the message in the Sent folder." Once you have verified this setting, there are several methods you can try to attempt to recover your sent email. If it is not selected, you will not be able to recover any sent email.
Step 2
Check your Sent folder. This is located on the left-hand folder menu beneath your Inbox and Draft folders. These will be listed in chronological order by most recent date. If you don't know the exact date of the email you are looking for, Yahoo! has an advanced email-search tool that allows you to search by date, sender, recipient, subject, text, attachment and folder location (including Sent folder and trash bin) to help you locate hard-to-find emails.
Step 3
Look in the trash bin. Deleted files, including sent emails, are stored here until one of two things happens. If you empty the trash bin, the files are deleted forever. Additionally, Yahoo! will automatically delete files from your trash bin when the bin exceeds its storage capacity.
Step 4
File a Mail Restore Help Form. In Yahoo! Help, under "Contact Us," you will find a Yahoo! Mailbox Restore Help Form. This request can only be made for email that has been deleted within the previous 24 hours. Beyond that time, your email is not recoverable. Please note that this does not mean the emails must be 24 hours old or less but that they were deleted during that time frame. Select the appropriate version, depending on whether or not you use All-New Yahoo! Mail or Yahoo! Classic Mail.