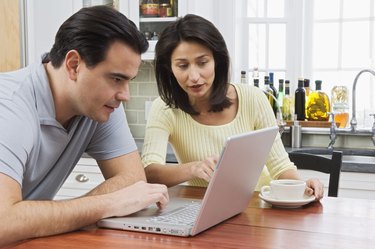 Faxing through email—sending and receiving cover letters and/or documents virtually—has a wide range of benefits, including the ability to send multiple pages or faxes at one time and saving on supply, printing and repair costs associated with fax machines. Emailing to a fax number using Microsoft Outlook isn't difficult—requiring only a fax service subscription and possibly changes to your Outlook setup depending on your fax service or version of Outlook. Once set up, the process uses the same tools as a regular email message but in slightly different ways.
Step 1
Subscribe to a fax service and follow any Outlook setup instructions required by your fax service provider if needed. If you already have a subscription or work on a network with services, go to Step 2. To review a list of Internet faxing service providers, such as MyFax or RapidFAX, click the link in the Resources section below or go to "File" in Microsoft Outlook and under "New" click "Fax" or "Internet Fax." When Microsoft Outlook prompts you to subscribe to "Fax Services," click "Ok" to open the Microsoft webpage list of Internet fax providers.
Step 2
Open a blank email message window.
Step 3
Type your fax recipient's number or fax number email address in the "To..." field of your email message. Depending on your fax service provider's instructions, your company's network-based services and/or your version of Microsoft Outlook, you can type in the fax number several ways:
Fax number only: 10-digit fax number, 8-digit number without area code, 10-digit number with calling card digits following or an international number)

Fax number following the text "fax: " in brackets: [fax:1234567890]

Email address with the fax number as the user name followed by the @ symbol and the fax service provider's domain name: 1234567890@serviceprovider's domain name
Step 4
Add a "Subject:" describing the purpose of the fax as you would normally in an email. Some services require that the "Subject" field have the recipient name or greeting that would normally appear on a fax cover sheet. For example, "Horatio Banister Washington" or "Fax for Consuela."
Step 5
Attach your cover sheet and fax documentation to the email unless your service permits the body of the email to serve as a cover sheet providing return contact information and message or instructions for the recipient.
Step 6
Click the "Send" button to send the fax. After a certain period has passed, your fax service provider will email a fax status notification similar to a transmission sheet. If your fax didn't go through, try again or contact the recipient for an alternative number.