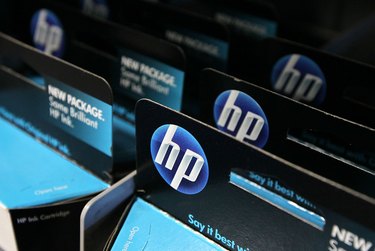 Traditional HP fax machines required a wired connection to a phone line as a means of carrying information and sending or receiving a fax. Digital printers and high-speed internet have made it possible to send a fax through a phone line or a digital process. You can even send to a fax machine from an email. Modern HP printers offer the ability to send a wireless fax. They are essentially wireless fax machines if you choose to use that specific function.
Printer Requirements
Sending a wireless fax through an HP printer is only possible on newer models that have a wireless network card. If your printer is connected to a wireless network, you have the ability to send a wireless fax. Older models that can only connect through an Ethernet cable or phone connection are not wireless ready. Your best alternative in this scenario is to scan a document on your HP printer and save it to your computer. You can then send the fax using an alternative method.
Send a Wireless Fax
To send the wireless fax, make sure your computer and printer are turned on and running on the same network. If you are already using the HP printer in conjunction with your home or office computer, it is installed on the network and ready to fax. If the printer is new, you must follow the installation instructions to connect to your network. Go ahead and set your document in the fax tray with a cover page to identify the document on the receiving end. Select the "Fax" setting and enter the number on the receiving end. Press "Start" and the printer feeds and scans the documents and sends them through your wireless network. Your HP printer without a phone line works just fine when it is hooked up to the wireless network. If the printer does not have a fax tray, you must scan each page of the document before sending the fax.
Alternative Fax Options
As an alternative, you can send a fax online using one of many free services. Execute a simple web search, and you will find a number of online fax options. You can choose a web-based document in .doc, PDF or any common file type that is compatible with a standard 8.5-inch by 11-inch document. A paper document must first be scanned to your computer for an online fax service. You load the document to the service, type the fax number on the receiving end and press "Send."