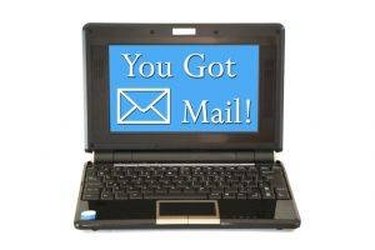 There are so many scam artists out there that you need to be diligent in protecting yourself against them. For one thing, you need to make sure that you thoroughly check out any email addresses that show up in your in-box without your consent. This can protect you from future spam, as well as protect you from becoming a victim of some senseless scam. You may also want to check out the email addresses of any businesses or charities you plan on becoming involved with.
Step 1
Go to Email Finder's homepage (see Resources). Type the email address in question in the box and click "Search." If the email is legit, it will come back with a company name, location and IP address.
Step 2
Open a Yahoo email account just for testing suspicious emails. You don't want to use your own email, because this could set off a spam attack.
Step 3
Click "Compose" or "New Mail" and place the email address in question in the "To" box. Type "Testing" in the subject line and again in the body of the email. Click "Send."
Step 4
Wait a few minutes to see if the email comes back as "Undeliverable." If it does, that means the email address is not valid.
Step 5
Use the BBB (see References) to determine if an email address is legitimate. This step only works if the email address is associated with some type of business or charity. Just type the email address in the email address box and click search. The search results will then appear, and you will be able to see whether the email address and the company are legitimate or whether there are complaints against them.