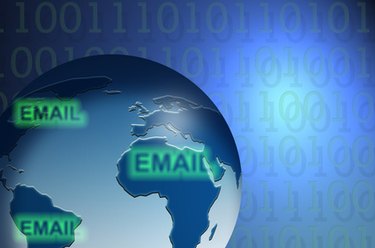 Email is a great way to communicate with others around the world. But email has also become a vehicle for scams, viruses and even harassment. Windows Live, which includes Hotmail, MSN and Live account holders, has set up different departments to deal with all types of abusive and scam-related email messages sent from other email domains as well as those sent from a Windows Live domain. Once a user submits a report, Hotmail investigates and uses the information to protect the account holder and other account holders from continued abuse.
Step 1
Report junk mail to Hotmail. Hotmail users should select the "Junk" option above the body of the email to report junk mail to Windows Live.
Step 2
Mark as scam. Hotmail users should select the "Mark as" option above the body of the suspected email, and select "Phishing scam" from the list of options to report a scam email. Hotmail will prompt you with the message: "You are helping us to stop junk mail by telling us about messages that are bad..." Click "Yes" to continue reporting that particular email.
Step 3
Report abusive emails. Abusive emails include harassment, child pornography or exploitation. Send an email to: abuse@hotmail.com. Include all information pertaining to the abusive email including the email address, the email messages and the dates that these emails were received. Also attach any abusive emails to the message that you are sending to Hotmail.
Step 4
Report a spam email originating from a Hotmail, MSN or Live account. If you are a non-Windows Live member and you are receiving spam originating from a Windows Live account, send an email to either report_spam@hotmail.com, report_spam@msn.com or report_spam@live.com depending upon the originating mail domain (i.e., Hotmail, MSN or Live). Attach a copy of the spam email to the message.