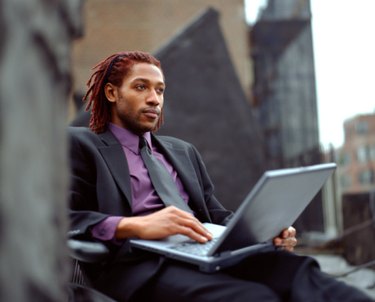 The benefit of Internet access offered by businesses and facilities alike creates a convenience enjoyed by many who want to access the Internet on the go. Both Wi-Fi and high speed Internet services can be opened for multiple users, but the two methods have fundamental differences in how they work. Be aware of how the systems function and how they can affect the user's exchange of information via the Internet.
Security
Unless you allow a Wi-Fi connection with a specific password access, an open connection is pretty much going to be an open channel for anyone to pick up the traffic going back and forth. For those utilizing any kind of sensitive information transfer, Wi-Fi is hardly protected in any form from hacking, viruses or interception of data. A free high-speed Internet access generally tends to be an Ethernet-connected terminal point run on a wired network, but not always. In some cases, it can be similar to a modem system with a coded access authorization system that restricts non-approved users. If the provider uses a firewall router and anti-virus protections, its users can enjoy varied levels of protection in trafficking sensitive data.
Transfer Speed
Wi-Fi speed depends on how strongly the signal carries between the Wi-Fi router and the user. If the signal is weak, the user will notice significantly slower data transfer speed, with delays on particularly heavy amounts of data. Text-based data will still move fairly quick. A high-speed Internet service frequently works with a connected Ethernet line on a DSL, broadband or T1 line (but again, not always). Depending on the throughput and how many run on the system simultaneously, the data transfer can be almost immediate even with large data files. If located close by, wireless Internet high-speed services can project traffic fairly quickly.
Availability and Location
In terms of mobility and availability, Wi-Fi wins hands down. The reason for this difference tends to be because many restaurants, hotels, businesses, and public facilities offer Wi-Fi today as a free amenity for their customers and visitors. However, this benefit is available in mainly urban or well-populated zones. Wi-Fi is not going to be frequently available in rural areas. High-speed internet service, due to the fact that it is based on a physical network, is only available where the terminal connections exist. So users are limited to their provider's physical location to be able to benefit from the service.
Wi-Fi vs Modem Broadband
A unique aspect of modem broadband access provides high-speed Internet service that doesn't need to be connected to an Ethernet socket. Instead, via what's called an "air card," the user can plug in a secure modem access via USB socket on a laptop and enjoy broadband Internet access as well. The option tends to be far more secure than Wi-Fi service, and it isn't shared with other users nearby. Modem broadband also allows significant mobility as long as the user stays in range of associated cell towers. In some cases, users can even use satellite access via a broadband air card, working in areas where no other service is provided (i.e., rural or wilderness).