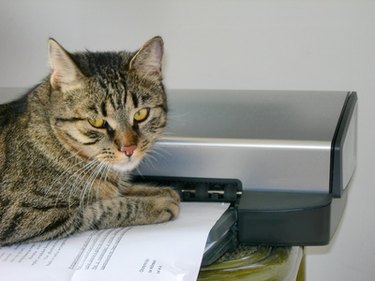 Laser printers are an excellent choice for business use, and as prices have come down, many home users have purchased them as well. Laser printers are able to produce superior results compared with ink-jets, but it is important to make sure the toner is changed when the level gets low. After the toner is replaced, it is also important to dispose of the used toner properly. Laser toner can and should be recycled, so printer owners should take the time to explore their recycling options.
Step 1
Remove the used toner cartridge from the printer and set it aside. Remove the new toner from the box and install it in the printer.
Step 2
Look inside the box for a prepaid return label. Many toner manufacturers have recycling programs in place to allow their customers to return their used cartridges.
Step 3
Place the used toner in the box and tape the box shut. Place the prepaid return label on the box and write your return address at the top. Check the carrier listed on the label, for example, UPS or FedEx.
Step 4
Call the toll-free number for the appropriate carrier to arrange a free pickup. If no return label is available, contact your local office supply store to see if they have a recycling program in place. If so, take the box to the store and give it to the store personnel for recycling.
Step 5
Log on to the website of your printer manufacturer to see if they have their own recycling program. For instance, Hewlett Packard has a recycling program for printer toner cartridges and other items, along with an application that allows users to print their own prepaid return labels.