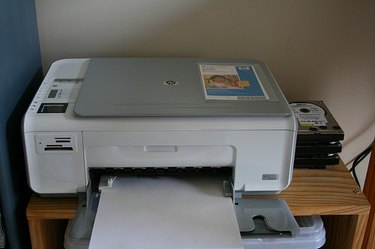 If you bought a used printer, you likely got a great bargain, but it is unlikely the printer came with an installation disc. If you bought a new Hewlett Packard (HP) printer, you should have received an installation disc. If you haven't, you can still install your HP printer in no time.
Step 1
Examine the printer to find your model number. Most HP printers place the model number on the front or back of the printer.
Step 2
Visit the HP Support website to download the appropriate drivers. Enter your model number and choose your operating system to download the correct drivers.
Step 3
Connect the printer to the computer according to the package instructions.
Step 4
Open your computer's Start menu and select "Control Panel," then select "Printers" under "Hardware." Click on "Add a Printer." Use the recommended port to install the printer.
Step 5
Select the brand (HP) of your printer, then select the model number. Click "Next" and allow the wizard to install your printer. Print a test page to make sure it works correctly.
Tip
If the test page does not print, double-check all connections between the printer and the computer. Make sure the printer is loaded with paper and turned on. USB (universal serial bus) printers automatically install after you have the driver and connect the printer.