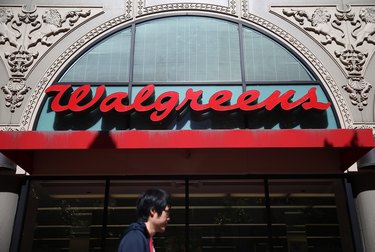 As an alternative to buying new cartridges, stores such as Walgreens offer ink refill services that provide a cheaper and more environmentally-friendly way to refill your printer's cartridges with high-quality ink. Available at a flat rate of $12.99 per cartridge as of November 2018, the Walgreens ink refill service supports black and color inkjet cartridges for major manufacturers such as HP and Lexmark. Before heading to the store, it's important to properly prepare your cartridges for the refill process and to know what to expect after you receive your refilled cartridges. Understanding the limitations of ink refills can also help you decide if the service is right for you.
Prepare Your Printer Cartridges
Before taking your ink cartridges in for refills, you'll need to remove them from your printer and package them to meet Walgreens requirements. Review your printer manufacturer's instructions to access and remove your cartridges from the printer. When handling them, avoid touching the copper strip and nozzles on the bottom and back sides of the cartridge since this can cause your cartridges to clog or not work properly in the future. Walgreens suggests putting the cartridge in a bag and keeping it away from very hot or cold temperatures on your way to the store.
Get Ink Refilled at Walgreens
Since services at Walgreens location may vary, consider calling your local Walgreens to verify it offers printer ink refill services and to get an estimate of how long it will take and whether your cartridges are compatible. When you arrive at the store, you'll usually find the printer ink refill service available in the area where photo services are offered, but a store clerk can direct you.
After you hand the employee your cartridges and provide any personal information needed for the pickup, you should get an estimate of when your cartridges will be ready. Walgreens notes it can take an hour or less, but there may be delay if others are waiting for refills or if the ink refill machine is temporarily unavailable.
Reinstall Your Ink Cartridges
After you pick up your refilled cartridges, follow your printer manufacturer's instructions to carefully reinstall each printer cartridge. When doing so, avoid touching the bottom copper contacts and ensure the cartridges are seated firmly in the holders with the top covers in place. Your printer may prompt you to confirm that new cartridges were installed and then print a test page.
In some cases, your printer may still say your ink cartridges are low and suggest replacing them. Following your printer manufacturer's instructions to reset the printer can help fix this issue. Walgreens reassures you will likely still be able to print pages normally even if the printer continues to warn you about low ink.
Pros and Cons
When you refill ink cartridges through Walgreens, you can save significant money and pay less than the cost of buying a new cartridge from major manufacturers. In most cases, you can also expect print quality comparable to what you get from your manufacturer's cartridges. Refilling ink cartridges is also an environmentally-friendly option since it reduces waste from packaging and replacement cartridges.
However, you should also be aware that there are limitations on how many times you can refill your cartridges. Walgreens estimates you'll get between four and six refills per cartridge, but wear and tear on the printer head over time can cause cartridges not to perform well or offer acceptable printing quality. You should also be aware your printer manufacturer may not cover any issues that occur from using refilled cartridges. Consumer Reports warns both Lexmark and HP include such exclusions in their warranties.