Although Hewett Packard (HP) printheads can be cleaned from the printer driver, you may need to clean the print heads manually if you are having problems with streaking, color fading or missing text and the cleaning tool doesn't help. You need to be especially careful when are manually cleaning the printheads so that you do not damage the contacts on the ink cartridge or the contacts on the printhead.
Cleaning from the Printer Driver
Step 1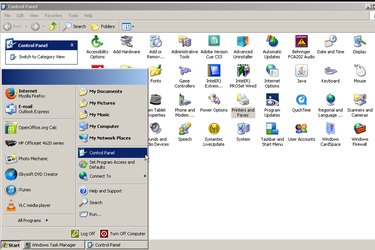 Click on the "Start" in the lower left-hand corner of the computer. Click on "Control Panel," and then click on "Printer and Faxes."
Step 2
Click on the icon for the printer. Click on "Properties" and click on "Printing Preferences."
Step 3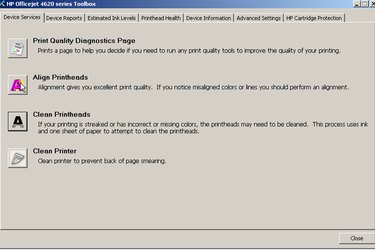 Click on the "Service" tab at the top of the window. Click on "Printer Services" tab at the top of the next window. Click on "Clean Printheads." The printer will perform the printhead cleaning.
Manually Cleaning Printheads
Step 1
Turn on the printer. Open the cover to expose the printer carriage. Wait for 3 seconds and unplug the printer from the electrical outlet. The print cartridge will stay in place by unplugging the power.
Step 2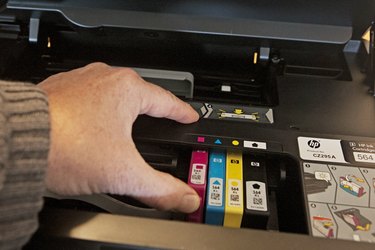 Remove the ink cartridge from the carriage by lifting up on the tab holding each cartridge in place. Remove the ink cartridge by pulling it out and up.
Step 3
Use a lint-free cloth to gently wipe the copper contacts on the bottom of the ink cartridges. If the residue is stubborn and won't wipe off, use a cotton swab dipped in bottled water to remove the residue by rubbing gently. Do not wipe the nozzle on the ink cartridge; wipe only the flat contacts. Lay the cleaned ink cartridge on it side on newspaper. Do not stand it upright with the copper contacts touching the newspaper or the ink will drain out.
Step 4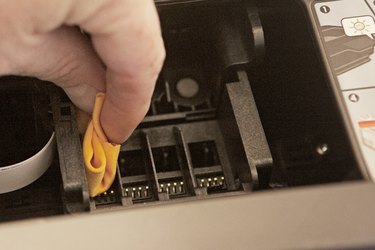 Use the lint-free cloth to wipe the contact points in the print carriage. If the residue won't come off, use a cotton swab wet with bottled water to remove the residue. Wait 5 minutes after you have cleaned the printer contacts before replacing the ink cartridge.
Step 5
Place the ink cartridges back in the printer cartridge. Snap down the top to secure the cartridges. Plug the power cord in the wall outlet. Close the cover. The printer is ready to use after running through the initialization.