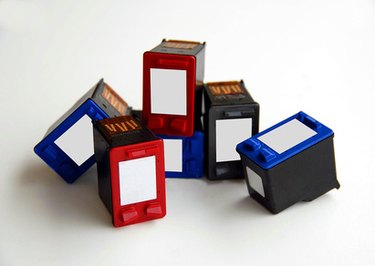 Canon printers feature an ink absorber pad that soaks up excess ink from the print cartridges, preventing smears and keeping the cartridge free of dried ink. While many printer manufacturers include pads such as these on their inkjet printers, Canon's is unique in the fact that the printer actively monitors the waste ink absorber pads and will display an error message when the pads are full of ink. While it is recommended that the printer be sent in for service, it is possible to replace the ink absorber pads at home.
Step 1
Open the printer as though you were going to install new ink cartridges, letting the cartridge cradle move to the center of the printing unit. Unplug the printer so that the cartridges will remain in their position.
Step 2
Locate the waste ink absorbers in their black rubber frame. They will likely be on the right side of your printer, and will be located underneath the area where the ink cartridges rest when the printer is in standby mode.
Step 3
Use a paper napkin or other disposable and absorbent material to soak up any excess ink that may be in the pads by pressing it down onto the top of the frame.
Step 4
Pull the rubber frame free from the printer, wearing gloves to keep your hands clean. Carefully remove the ink absorber pad or pads from the rubber frame.
Step 5
Insert new ink absorber pads firmly into the rubber frame. Replace the rubber frame in its original position and close the printer.
Step 6
Hold down the power button, then plug the printer back in. Continue holding the power button down until the printer begins to reset itself and come online.
Step 7
Wait for the green power light to turn off, then press and release the power button again. It should blink for two to three seconds, then stay lit; this will indicate that the printer has been reset and is ready to print again without errors.