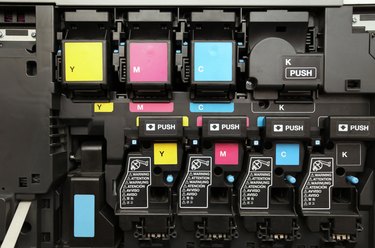 Toner is an essential component of a printer. When your HP printer runs out of toner, you are required to purchase a new cartridge, which can be quite expensive. A cheaper alternative is to refill the toner of your existing HP cartridge. However, the problem is that the HP printer still recognizes the refilled cartridge as empty unless you properly reset the cartridge. Resetting the toner cartridge is a simple process that shouldn't take more than thirty minutes of your time.
Step 2
Press and hold the green button on your printer and turn the printer on. You will see that the lights flash for a moment and then turn off. After a few seconds, the attention light will turn on followed by ready light and the green light. Keep pressing the green button. In a few seconds, the attention light and the ready light will turn off.
Step 3
Push the toner rotate button while you continue pressing the green button. As you briefly push the toner button, you will see the light flashing. Release both the toner button and the green button.
Step 4
Repeatedly push the red button (cancel button). Now all the working lights on the printer will turn off.
Step 5
Open and close the lid of HP printer once. The light will start blinking.
Step 6
Press the green button. Your HP toner cartridge chip will be reset.