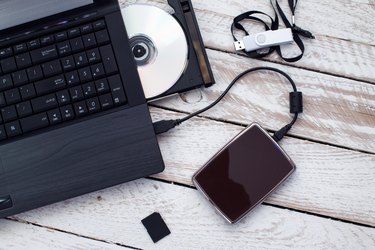 Long before every household in the U.S. had at least one mobile device with video recording capabilities, families were capturing memories. Even before VHS became standard in the '80s, videos were recorded using a large camera that held film, known as 8 mm camcorders. If you have any of these old film canisters lying around the house, you can use 8 mm film-to-digital conversion equipment to transfer the memories to DVDs, but there are much easier ways to make that switch.
Convert 8 mm to DVD
The 8 mm format was most popular in the '60s and '70s, but it gradually phased out in favor of Super-8 mm and VHS. If you have 8 mm film, it's what's known as Regular 8, so you need a film-reel projector to play the film so that you can transfer it. A far easier way is to invest in one of the 8 mm film-to-digital conversion equipment options that are available for purchase online.
If you don't have boxes filled with 8 mm film, though, it is less expensive, not to mention easier, to take advantage of one of the many services that convert 8 mm to DVD for a fee. Now that people tend to share photos online rather than make prints of them, many photo departments in drugstores and department stores specialize in services that include transferring old memories to digital formats. You can shop around with local and online services to get the best deal.
Equipment for Converting 8 mm to DVD
People who have a large quantity of 8 mm film to convert may prefer a DIY option. To get started, you need to buy the 8 mm film-to-digital conversion equipment necessary to make transfers. The good news is, once you have things set up, you can transfer all your 8 mm film at once. The easiest solution is to buy one of the many 8 mm-to-DVD scanning devices available online, often for less than $300, but you can also build your setup using separate pieces of equipment.
To make an 8 mm film transfer without a scanner, you need an 8 mm projector with a three-bladed shutter and variable speed control, a camcorder with variable exposure and shutter speed control, and either a white card or a film transfer box. For the white card method, you project the image onto the card for the camcorder to capture. With a film transfer box, there's a mirror inside that reflects the image onto your camcorder lens. You use your DVD recorder to capture the video.
Outsourcing Film Transfers
If you want to save some money on equipment or you only need a few rolls of film transferred, there are plenty of ways to complete an 8 mm film transfer to DVD without doing the work yourself. One of the easiest is to take the film to a store like Walmart, where the photo department can handle it for you. Most stores accept 8 mm, Super 8 and 16mm film and deliver them on DVD — complete with chapter menus and music video highlights in some cases.
Some individuals convert 8 mm to DVD for a fee. They have all the equipment, along with the top software necessary to provide the best quality available. You can either deliver your 8 mm film to someone locally or pay one of the many online services that have you mail your film in for conversion.