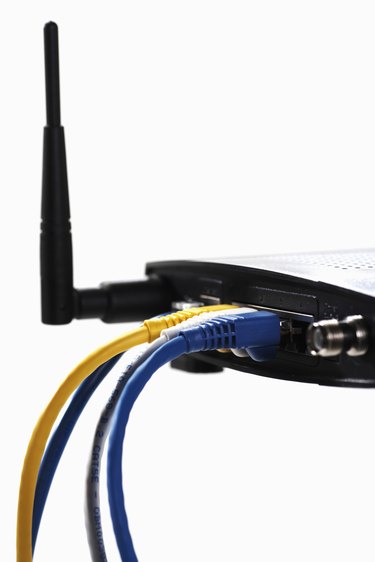 Comcast supports specific routers for your home Wi-Fi network by providing equipment and instructions, but nearly any modern router will work. If you lease your cable modem from Comcast, the company will provide a free wireless router upon request. If you purchased your modem, you must provide your own router to get wireless access.
Wireless Standards
The standard for wireless networking is called 802.11, and it has four subtypes: a, b, g and n. Modern routers use the 802.11n type, which supports the highest speeds available. You can still connect with other router types, but your wireless networking speed will not exceed 20 megabytes per second. Your mobile devices and computers with wireless network cards may any of the four types. To ensure compatibility between your Comcast Internet services and your computers and mobile devices, use an 802.11n router that specifies it is compatible with a/b/g.
Router Support
Comcast provides setup instructions with routers if you lease the equipment. If you own your own equipment, the Comcast Web site offers some basic information for setting up your wireless network on specific Netgear and Linksys brand routers. If you use a router not specifically supported by Comcast, you must contact the router manufacturer for setup and troubleshooting help.
Types of Routers
Stand-alone routers connect to your Comcast cable modem through an Ethernet cord. If you don't want the clutter of two devices and an extra cord, you can use a gateway device instead. Gateway devices are units that combine the router and modem in a single unit. Comcast specifically supports limited Linksys and Netgear models as well as Xfinity-branded gateways. The modem within a gateway must be compatible with cable Internet service.
Configuration
Comcast modems generally require setup through a wired connection to your computer's Ethernet port. After setting up the modem, connect your router to the modem and an Ethernet port on your computer to set it up. This only requires setup on one computer, not all of the computers you intend to use with the service, because you are configuring the modem's and router's settings, not the computer's. If you do not have a working Ethernet port, contact Comcast for alternative setup options.
Security
Comcast recommends that you set up a secure wireless network. This includes encryption as well as password protection. If your router was provided by Comcast, it will come with instructions for how to configure your security settings. If you purchased a router on your own, check the router's installation instructions for the steps to set up your wireless network security.