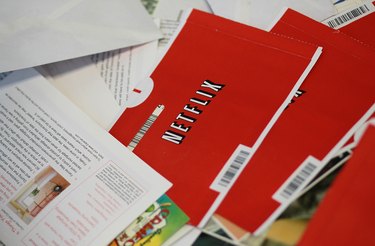 Netflix streams thousands of movies and television shows to computers, smart phones and other Internet-enabled devices. The programming on Netflix ranges from VHS to high-definition quality, which is dependant on your Internet connection speed and local bandwidth. While Netflix does not identify that upload speeds impact your capability to stream through their service, upload speeds are directly related to your bandwidth and download speeds, which do impact Netflix streaming.
Netflix Minimum Requirements
Netflix suggests that users stream video only with a connection of at least 1.5 megabits per second. The picture quality of your streaming content is directly related to the Internet connection test that Netflix performs prior to the streaming process. The 1.5 Mbps minimum will only stream VHS or broadcast TV-quality video.
Testing Your Internet Speed
Speedtest.net is a free service that tests your upload and download speeds by tracking information sent from your computer to a nearby server. Speedtest.net records these speeds and asks users to report the speeds that were advertised to them by their Internet service providers. To test your connection speed, log on to www.speedtest.net and click the "Begin test" link. A signal will be generated and sent to a server that is geographically near you. The test will take approximately 30 seconds and will test your upload and download speeds.
Bandwidth
Bandwidth refers to the amount of Internet traffic your computer is using. Because users purchase preset speed packages through their service provider, each household has a maximum amount of traffic that can be incurred at one time. Just like the freeway fills to capacity at rush hour, your Internet speed can be impacted by using multiple Internet-based applications. For the best results, suspend any downloads in progress, other streaming services and bandwidth-intensive programs -- such as video games -- before streaming a video through Netflix.
Wired Versus Wireless Connections
The type of network connection that you use to connect your home to the Internet can also affect upload and download speeds. A study conducted in 2011 by Epitiro found that homes using a wireless network instead of a wired network experienced a 30 percent reduction in upload and download speeds. If you are experiencing connectivity problems when watching Netflix, try streaming on a device that is wired with an Ethernet connection.