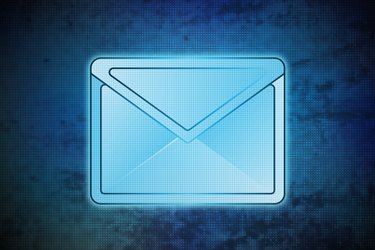 If you received an email with one or more attachments that you can't download to your computer, the most likely culprit is your antivirus, antispyware or firewall software. They might be conflicting with the antivirus scanner on your email account. Another issue, though less common, is that your download or history cache on the Web browser you are using is full. The cache, otherwise known as the Temporary Internet Files, is a record on your browser of every website you've looked at and everything you've downloaded. This allows your Web browser to quickly access those items and load content onto your screen faster. A full cache can impede further downloads when the Temporary Internet Files folder has all the information it can hold. Some files will need to be deleted before it can store more.
Change Settings
Step 1
Open your antivirus, antispyware or firewall software and change the settings to allow information from your email provider. Most programs have a button on your Web browser for the software. Right-click on that button and select to remove pop-up blocking. With other programs, double-click on the program button located at the bottom-right corner of the screen and look for pop-up settings, ad-blocking settings or email blocking settings. Finally, there are some antivirus programs that will simply put a bar at the top of your Web browser whenever a pop-up is blocked, right-click on that bar and choose to allow pop-ups from the email provider.
Step 2
Open "Internet Tools" on the browser you are using, then click on "Options." Delete all of the browsing history, cookies and download history by clicking on the "General" tab, then "Browsing History," and then "Delete." If it asks you if you want to delete history, click "OK." On some browsers, the history is listed under the "Privacy" tab. On the "History" section of that page, click "Clear all current history." This clears the cache.
Step 3
Look for the "Security" tab under the "Options" tab. See if an option for blocking suspicious emails with attachments is checked. Uncheck that box.
Step 4
Go to your email account; try downloading the attachment again.