Your Gmail account runs virus scans automatically when an email message arrives, when you open an email and when you send an email message. When Google Gmail finds a virus or a suspicious attachment, it may block the email from reaching your inbox.
Gmail Scans All, Blocks Some
Gmail blocks incoming messages that fail a virus scan. Google Gmail blocks emails larger than 25M and blocks certain types of attachments, such as executable files. Executable files have an EXE extension and can change your computer configuration, install software and perform other actions. Other blocked files include those with extensions BAT, SCR and more.
Virus Scanning on Incoming Gmail Messages
Google Gmail uses undisclosed virus detection software or a suite of virus detection applications to scan all incoming email. The virus detection process blocks email when it finds a virus or detects a prohibited file type. The sender may be informed that the email failed to reach the recipient. The intended recipient of a blocked email sees nothing.
If the Google Gmail virus scan can't understand an attachment or fails to finish within a certain amount of time, Gmail may ask you for intervention. Gmail displays "Oops... the virus scanner has a problem right now," or a similar message, and offers you the option to download the email at your own risk. Gmail does not recommend downloading attachments that cannot be scanned.
Virus Scanning on Outgoing Gmail Messages
When Gmail detects a virus or a prohibited file type attached to an outgoing email, it generates an error message.
Click OK to remove the attachment and send the message. Click Cancel to return to the email you are trying to send. Gmail displays an error message next to the attachment. Blocked file types may display an error message immediately after attaching them.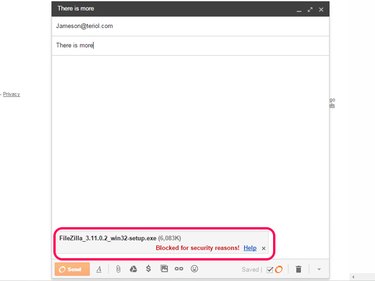 Click Help to learn why the file is blocked. Click x to remove the attached file.
Google Gmail can detect a virus, but it cannot remove a virus from infected attachments. Clean the attachment with your virus scanning/removal application and try sending it again. Delete the attachment if the virus cannot be removed, or if it is a prohibited file type.