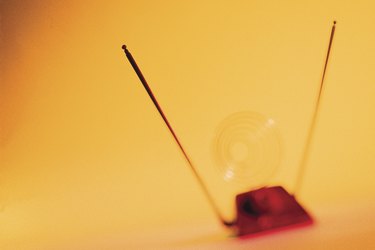 An indoor digital TV antenna receives a broadcast signal being transmitted through the airwaves. To increase the signal strength of the signal being received, a simple antenna booster is all that is needed. Build a homemade antenna booster that is versatile enough to use with a Wi-Fi antenna when the TV antenna is not being used. All you need is a metal bucket that you can purchase at a hardware store or garden supply shop. Nothing unconventional or specialized is required. The antenna booster will help to ensure that the indoor TV antenna is receiving a stable broadcast signal.
Step 1
Place a bath towel next to the TV. Place the bucket upside face down on the bath towel. Place the stand of the indoor TV antenna on the top of the bucket.
Step 2
Turn on the TV. Change the channel to a program you want to watch.
Step 3
Align the base of the TV antenna against the rim of the bucket at one side.
Step 4
Move the bucket along the rim in a clockwise motion while watching the channel.
Step 5
Stop moving the antenna once there is a stable signal--which is to say that the broadcast on the channel is sharp and clear.
Things You'll Need
Bath towel

Metal bucket, 2 gallons
Tip
You can remove the handle of the bucket or cut it off if you prefer the bucket to have a more compact look.
Warning
Cellular signals from a cell phone can interfere with a digital TV signal if placed too close to the antenna.