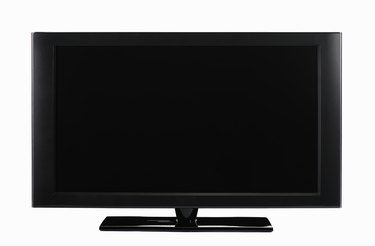 When you purchase a Toshiba LCD or plasma television set, it will come with a sturdy, plastic base to set the TV on. This is great if you're planning on putting your TV on a shelf or TV stand, but is actually prohibitive if you want to mount your new TV on a wall. If you want to mount your TV you'll have to remove the TV's stand in order to accomplish this. Luckily, this can be done in just a few seconds.
Step 1
Turn off your Toshiba TV if it is on.
Step 2
Unplug your TV from the wall and any other devices (like DVD players or Blu-ray players) that it is connected to.
Step 3
Put a blanket, towel or some other kind of soft object down on the floor (if you have hardwood floors and not carpeting in your home).
Step 4
Set your Toshiba TV down onto the soft surface with the screen facing downward toward the floor.
Step 5
Use a flat-head screwdriver to remove the two large, plastic bolts on the rear of the TV stand's base. These bolts are holding the stand onto your Toshiba TV. Set the bolts aside.
Step 6
Use your hand to pull the base off of the Toshiba TV. You will now be able to set your TV completely on the ground. Put the base (as well as the accompanying bolts) aside for safe-keeping, in case you ever need to use them again.