Removing the stand from your Vizio flat-panel TV is relatively simple, although the exact way to get the stand off differs by model. A little bit of careful handling and a few turns with a screwdriver are all it should take to pop the TV loose and get it ready for mounting on a wall. If you're dealing with a larger model, though, get someone to help you. You don't want to damage such an expensive piece of equipment.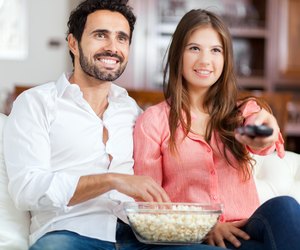 credit: Minerva Studio/iStock/Getty Images
Step
Make sure the TV is powered off.
Step
Disconnect all cables from the TV.
Step
Lift the TV and place it with the screen side down on a soft, flat surface, such as a bed. Double check before you set it down; an object lying underneath can easily scratch the cabinet--or worse, damage the screen.
Step
Inspect the stand. On some models, the base detaches from the neck of the stand; on others, the entire stand attaches as one piece.
Step
Remove the stand base--the horizontal "foot" that the TV rests on--if this applies to your model. If there are tabs where the base meets the neck, squeeze them and pop off the base. If the base is attached with a screw through the bottom of the base, then remove that screw and pull off the base.
Step
Remove the plastic neck cover, if your TV has one.
Step
Locate and remove the screws holding the stand to the TV. There will be four or eight screws, depending on your model.
Step
Pull off the stand. On some models, you may have to push downward slightly--toward the front of the face-down TV--to get it off.