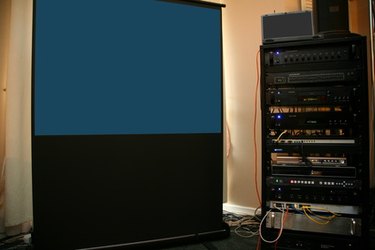 Mitsubishi 65-inch rear-projection TVs are large. As a result, Mitsubishi engineers realized that getting these mammoth sets up and down steps and around corners would be at times impossible, unless the set could split in two. Mitsubishi wisely engineered its CRT rear-projection TVs to easily disassemble, though you'll need the help of one or two other people to manage the weight and unwieldy nature of the set's components. Once separated, 65-inch Mitsubishi TVs are far easier to deliver and install.
Step 1
Pull the speaker grille off the front of the set, attached by a heavy-duty hook-and-loop fastener.
Step 2
Remove the four plastic screw caps in each side of the set, using the small flat-head screwdriver. Unscrew the four screws on each side of the TV, using the Philips screwdriver.
Step 3
Locate the single wire harness on the front panel, directly under the screen and behind the speaker grille's installed location. Carefully pull on this plug to disconnect it from the cabinet.
Step 4
Have one assistant on each side of the TV lift it straight up, detaching the top of the chassis from the bottom.
Things You'll Need
Two assistants

Philips screwdriver

Small flat-head screwdriver