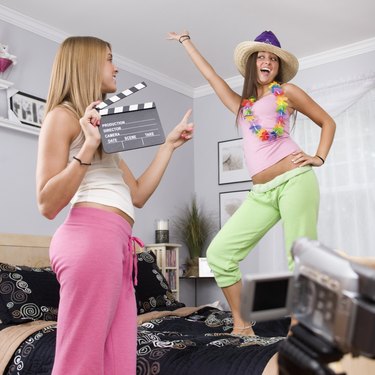 The sound quality on home movies and video clips is often as important as the video quality, particularly if the movie contains music. Windows Live Movie Maker is free movie editing software that ships with all Microsoft Windows computers. The program comes with a range of editing tools and output settings, including the ability to change the sound quality on your movies and video clips. For example, you might want to select a higher quality audio setting for movie clips with digital surround sound or for any video containing music.
Step 1
Launch Windows Live Movie Maker.
Step 2
Click the "File" icon in the main menu ribbon. Select "Open Project" from the drop-down menu to open the Movie Maker project with the audio that you want to modify. To start a new movie, select "New Project" and add video, image and audio files to the project by clicking the "Add Videos and Photos" and "Add Music" buttons in the main menu.
Step 3
Click "File" followed by "Save Movie." Select "Create Custom Setting" at the bottom of the Save Movie context menu.
Step 4
Click the "Audio Format" button in the Audio Settings section. Select your preferred audio format settings from the drop-down list. To improve the quality of audio over the default setting suggested by Movie Maker, scroll to and select an audio setting above the default. You can choose an audio format up to "440 Kbps, 90 Hz Stereo," which is suitable for high-definition movies with digital surround sound.
Step 5
Type a name for the custom setting into the "Name" input field. Click the "Save" button to save the customized setting. Click the "Close" button.
Step 6
Click "File" followed by "Save Movie" again. Select your saved custom setting in the "Custom Settings" section of the Save Movie context menu. Click the "Save" button to output and save the movie with the higher-quality sound settings.