When you get a new cell phone number, head to the Mobile Settings page on Facebook to change your information. Registering a cell number with Facebook makes it possible to send and receive updates using text messages and, if you choose, share your number with friends. If you want to give your friends only your new number without setting up texting, change your number through the profile on your Timeline instead.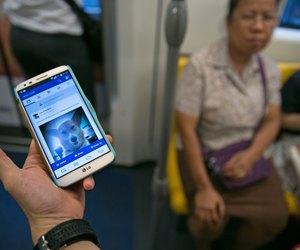 credit: Paula Bronstein/Getty Images News/Getty Images
Step
Log in to Facebook, open the drop-down menu on the top bar and click "Settings." Press "Mobile" to see the cell phone currently registered to your account.
Step
Click "Remove" by your old cell number, and then press "Remove Phone." You don't have to remove your existing cell phone number if you would rather have multiple numbers listed. For example, if you have a free texting number or a second cell phone for work, you can add it to Facebook without deleting your primary number.
Step
Press "Add a Phone." If you already have another cell number listed, click "Add Another Mobile Phone Number" instead. Choose your region and cell carrier and click "Next."
Step
Send a text containing the letter "F" to the phone number Facebook displays. Most phone carriers in the United States use the number "32665," but a few carriers have alternate numbers, so check the number on the screen.
Step
Type the confirmation code you receive via text message into the box on Facebook. Uncheck the option to share your phone number with friends or the option to receive updates through text messages, if you want, and press "Next." Enter your Facebook password to confirm your identity, if prompted, and the Mobile Settings page will refresh to display your new number.