If you routinely create the same kinds of documents, consider creating your own template in Word 2013. Instead of inserting the same text, modifying font styles or adjusting margins every time you start a new document, opening a custom template can let you get straight to work on the content instead of wasting time tweaking the styles.
Saving Your Own Templates
Step 1
Open a Word document. Add whatever content you want for your template, while removing anything that won't be used in the future. For example, if you routinely change the title of your documents, just type "Title" at the top, then specify its formatting, like the font, text alignment or style by using the options under the Home menu.
Step 2
Click the "Page Layout" tab and specify the margins you want by clicking the "Margins" icon. You can also change the document size, specify the indents you want used and adjust the line spacing. All of these changes will be saved to the template so you won't have to change them every time you create a new document.
Step 3
Click the "File" menu when your template is finished. Click "Save As" and then select a location for your template. To use Word's Custom Templates folder, click the "Browse" icon, then double-click the "Custom Templates" folder located in the Documents folder. Note that you can also save a template for use on different devices using your personal OneDrive folder.
Step 4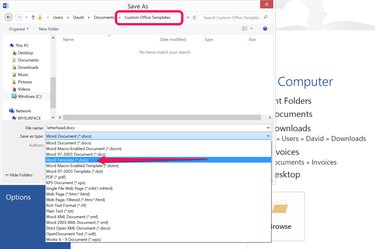 Type a name for your template, then click the "Save As Type" menu and select "Word Template (*.dotx)" option. Click "Save."
Step 5
Edit your template at any time by navigating to the "Custom Templates" folder and selecting the template file. Note that templates use the DOTX file extension, so when you save the template, make sure you don't change this extension.
Using Your Custom Templates
Step 1
Launch Microsoft Word, or select "New" if Word is already open. A list of Featured Office.com templates is displayed, including the "Blank" template. To create a new document based on your custom template, click "Personal" and then click the template to open it as a new document file.
Step 2
Add whatever content you want to the new document. Any changes you make here, including changes to the fonts or styles, won't affect your saved template. Click the "Save" icon when you are finished your document.
Step 3
Select a location to save your document and give it a file name. By default, Word saves the document as a .docx Word file.
Tip
Microsoft Word 2013 has additional templates beyond what is loaded onto your computer. Type a word or two describing the template you need, like "letterhead" or "calendar" in the Search field above the list of templates to browse the online catalog.