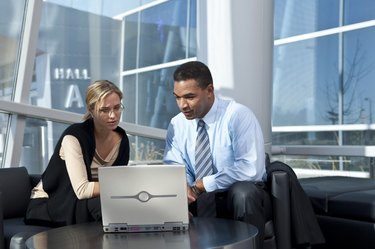 As you type sentences in Microsoft Word, it automatically wraps words at the end of each line to the next new line. The word wrapping places soft returns, invisible coding that indicates the word wrap, at the end of each line. The soft return codes, along with other formatting codes, tell your computer's printer and display how to format the document. You can remove soft returns if the returns are in the wrong place or you want to change a document's structure.
Step 1
Open the document you want to modify.
Step 2
Click the Show/Hide icon, which looks like a backwards "P," on Word's toolbar to display your document's hidden formatting codes.
If you're using Word 2007 or a newer version, click the Office button, then the "Word Options" button at the bottom of the open dialog box. Select "Display," then "Show All Formatting Marks."
Step 3
Look for a curved arrow—this is the symbol for a soft return. Locate the soft return you want to remove and place your cursor in front of the symbol.
Step 4
Press delete to remove it.