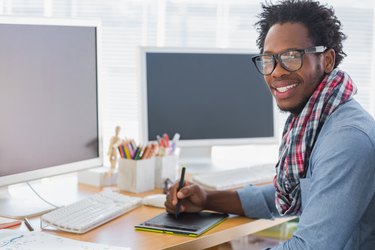 Many websites offer free clip art for use in personal and commercial projects, such as greeting cards, newsletters, blogs, art projects and presentations. Some of the illustrations are free for personal use but must be purchased or licensed for use in a commercial context. In most cases, you cannot sell the clip art or offer it as a free download on your website.
Free Clip Art Websites
Visit a site such as OpenClipart, Classroom Clipart or the OpenOffice Clipart Galleries to browse clip art packages and review their licenses. You don't have to create an account to download free clip art from these sites, but you do need a subscription to download high-resolution graphics from OpenClipart or Classroom Clipart. To download an illustration, select an image from the main page and click the "Download" button.
Using Clip Art With a Public License
The clip art's download page displays its license next to the artwork. Most art on OpenClipart and Classroom Clipart is in the public domain, so you can freely use it without attribution or payment. Most art in the OpenOffice Clipart Galleries has a GNU Lesser General Public License, so you can freely use it in personal and commercial projects without attribution, but you can't redistribute an altered version. Some site licenses require you to attribute the illustrator in your work; if your clip art carries this license, it explicitly states this requirement on the download page.