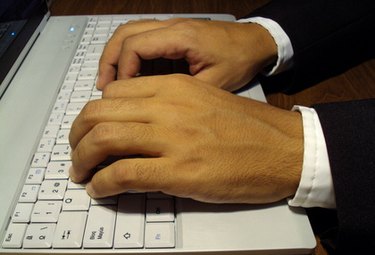 While the American Psychological Association (APA) issues specific requirements for a "Works Referenced" page, executing these guidelines in various processing programs can prove tedious. If you want your paper to uphold the highest professional standard, ensure that you're taking the correct steps in formatting your reference page. Otherwise, you may discover that, while the formatting looked correct on the screen, the printed version proved a formatting disaster.
Formatting the Page
Step 1
Move your cursor to the end of your APA research paper and insert a page break. Do this by selecting the "Insert" tab followed by the "Page Break" option. Type "Works Cited" at the top, center with the "Center" button under the "Home" tab. Press "Enter" twice to create a double space. Select the "Left Align" button.
Step 2
List every piece of work which you referenced for your paper in alphabetical order according the author last name. Cite books by first writing the author's last name, followed by first initial and separated by a comma. Next, insert the year of publication in parenthesis and cap with a period outside the parenthesis. Include the name of the work and subtitle, separated by a colon, in italicized format and capped with a period. The "Italicize" button is near the "Center" and "Left Align" buttons. End your reference with the location of publication and name of publisher separated by a colon and capped with a period.
Step 3
Cite articles by first writing the author's name and year of publication as specified in step two. Next, insert the title of the article capped by a period. Include the title of the periodical or magazine and the volume number, separated by a comma, in italicized format. Without inserting a space after the volume number, include the issue number in parenthesis. After the parenthesis insert a comma, cite the pages of the article and cap the citation with a period.
Step 4
Select all your completed references by either pressing "Ctrl+A" and deselect the words "Works Citing," or by manually selecting all the citations with your cursor. Convert the references to a hanging indent by selecting the "Home" tab and clicking the little arrow next to the word "Paragraph." This opens a separate box. Choose the "Indents and Space" tab. Change the "Special" category under "Indentation" to "Hanging." Change "Spacing" to two inches. Press the "OK" button. Your reference page is complete.