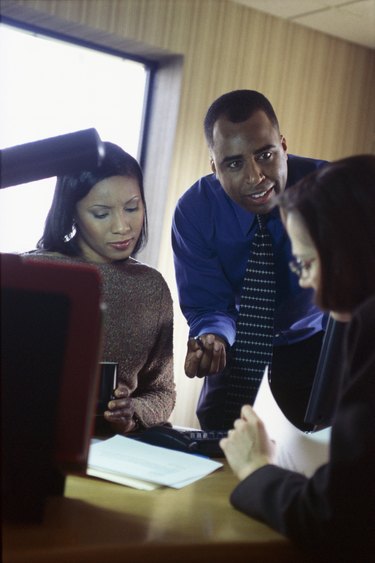 Many school and business reports require a title page. While manually creating a page is possible using line breaks, tabs and spaces in Microsoft Word, this option is prone to error. A professional look sets off your report. Use the formats available in Word to properly set your title page format. The cover pages formats provide several options for the look of your title page. Once you've found the one you want, insert your own text to complete a crisp title page.
Step 1
Click the "Insert" tab, and then click "Cover Page" in the Pages group.
Step 2
Review the provided title page choices to find one that best suits your report or paper.
Step 3
Click the cover page you prefer. Word inserts the page in the document.
Step 4
Enter the text and images appropriate to the title page by clicking that area of the inserted page and typing your information.
Tip
If you insert a second cover page, the new option replaces the first cover page choice inserted.
If you are updating a document from an earlier version of Word, you must manually remove the first cover page and then add the cover page from Word's gallery of options.
To remove a cover page, if you change your mind, select the "Insert" tab. Choose "Cover pages" from the Pages group, and then click the option to "Remove Current Cover Page."
Warning
Information in this article applies to Microsoft Word 2013. Instructions may vary slightly or significantly with other versions of the program.