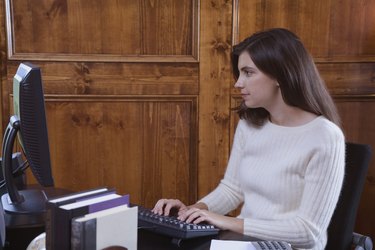 When you take pictures during a video call while using ooVoo, the application saves the images as JPG or PNG files in a folder on your computer, but you might have forgotten which folder you designated to save them in. The ooVoo application enables account holders to make free video calls to one another via the Internet. If you want to get your ooVoo pictures from a previous video call, you can easily find out which folder you used to save them.
Step 1
Launch the ooVoo application on your computer.
Step 2
Click "Actions" at the top of the ooVoo window.
Step 3
Click "Start ooVoo Video Call" or "Enter My Video Chat Room" to open a video window.
Step 4
Click the icon of a camera, located at the top of the video window, and then click "Snapshot." A dialog box appears, with a drop-down menu named after the folder you last used to save ooVoo pictures.
Step 5
Click the drop-down menu to reveal the path to the folder on your computer. For example, you could have created an "ooVoo pictures Summer 2011" folder inside the "My Documents" folder.