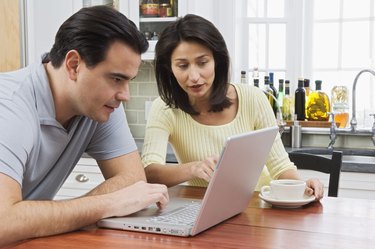 Printing banners with Microsoft Word is fairly easy. If you plan on printing your banner on banner paper as opposed to 8 1\2-by-11 inch printer paper, you'll need a printer that can accommodate the paper you plan on using. Start a new banner in Word using either a template, or from scratch. Printing a banner with Microsoft Word takes no technical experience and is very similar to printing a normal document in Word.
Creating a New Original Banner
To create a banner from scratch, select the "Page Layout tab" and then click "Size," then "More Paper Sizes." You can enter the width and height for your banner, and then proceed to enter content and images to create your banner.
Creating a Banner from a Template
Access Word templates via the "File" menu. Click "New" and search for the keyword "banner" in the search box. Choose a relevant template from the displayed list. You can then edit the banner in any way you wish, changing the preset headings, the font style, or colors.
About Text and Images
Placeholder text and images can be replaced with clip art, a picture from a file or a picture from a digital camera or scanner. For images, just right-click on the placeholder image, choose your source from the context menu and navigate to the location of the art. Click "Insert" to change the picture. If the device you're uploading from is a scanner, be sure to select "Print Quality. If the source is a digital camera, click "Custom Insert" and then follow the onscreen instructions.
Text placeholders can be replaced by double-clicking placeholder text and typing in the text that you want to appear on your banner. Alternatively, you can add a text box or word art.
How to Print a Completed Banner
Printing a completed banner on banner paper requires using a printer that supports banner paper size. You can check if your banner supports this by clicking "Page Setup," the "Printer and Paper" tab and then "Paper."
To print, select "Ctrl-P" to launch the Print dialog. Choose the options that best fit your banner -- for instance, a portrait or landscape orientation, or the number of pages you wish to print. You will likely be printing one-sided, so make sure that "both sides" is not checked. You can optionally resize the banner by selecting "2 Pages Per Sheet," which will make it smaller. You can also change the scale by clicking "Scale to Paper Size." Once you finalize all your options, click the "Print" button.