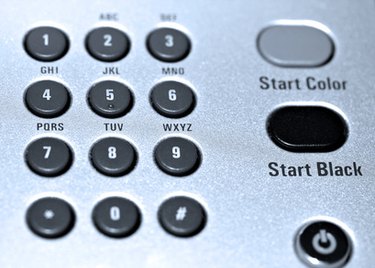 The default paper size for most word processing programs and printers is the standard 8 1/2 x 11 inches. However, some projects, such as greeting cards or letters on special stationery, can require printing on paper that has smaller dimensions. Luckily, adjusting the paper size on your printer is quick and easy if you follow these steps.
Step 1
Prepare your document in a word processing program such as Microsoft Word. Adjust the margins to your preferred size and use the spell-checker to ensure that there are no spelling errors.
Step 2
Make sure that your printer is connected to your computer, then go to your word processing program's Print menu, which can generally be found in the File menu on a Windows PC and a Mac. A print dialogue page will appear where you can choose the printer you're going to be using.
Step 3
Choose the appropriate paper size after choosing your printer. On a Windows PC, this can be done by clicking "Properties," then clicking the "Paper/Quality" tab, where you will find a drop-down menu for paper size. The default is "Letter — 8 1/2 x 11," but the menu lists a large number of different sizes including 8x10 and 5x7. If the size you need isn't listed, click on the "Custom" button and enter your own measurements. On the print menu of a Mac, click on the blue button depicting a downward-pointing arrow next to the name of the printer you'll be using. This will expand the menu to reveal more advanced options, including paper size, which defaults to "US Letter — 8.50 by 11.00 inches." As with the PC, you can then choose a different size from the drop-down menu or add in your own.
Step 4
Load the paper into your printer. Make sure to have extra paper on hand in case something goes wrong and you need to re-print one or more pages. Most newer printers have guidelines for different paper sizes; generally, you will want to place the paper all the way to the right side of the tray. If your printer has a sliding paper guide, push over until it rests against the edge of the paper. This will help the paper to feed evenly into the printer so your document will come out straight.
Step 5
Click "Print" on your computer. You may want to start by printing only the first page of the document to make sure that the print job is working properly and there are no flaws, such as the text running off the side of the page. Once the first page has printed to your liking, you can then proceed to print out the rest of the pages.