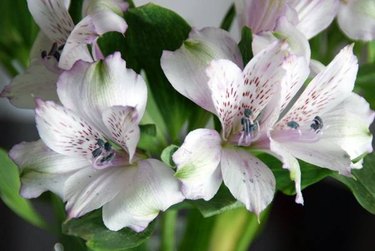 Consumers now have many choices of paper to use with their computer's printer. Those who are printing photographs can select photo-quality paper to use in their printer. Photo-quality paper is available in heavier weights, and comes in a matte or glossy finish, just as in traditional photography paper.
Step 1
Purchase the glossy paper appropriate for your computer's printer. What works in an ink-jet printer may not work in a laser printer. Glossy paper may have a varnish coating, and if the particular brand cannot tolerate the heat of a laser printer, you could damage your printer. Read the packaging carefully.
Step 2
Clean the rollers on your printer before using glossy paper, or the rollers may have a hard time feeding the gloss paper through the printer. Refer to your printer's manual on for instructions on how to properly clean the rollers.
Step 3
Feed the paper through the printer one page at a time. Because of the additional thickness and static electricity generated by gloss paper, two pages of glossy paper can easily stick together, especially during low humidity. Do not stack the glossy paper in your printer's paper tray; feed one page at a time.
Step 4
Allow the printed paper to dry in the printer's paper tray before removing. Carefully remove the paper (holding by the edges) from the tray before printing another page.
Step 5
Lay the printed paper on a flat surface to completely dry. Ink will easily smear on glossy paper, so be sure it is completely dry before touching or inserting into a page protector.