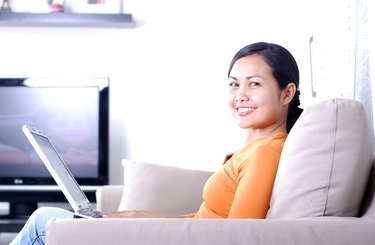 Although you can't use Netflix and Hulu to gain access to all the content available through cable TV, their low-cost subscriptions and huge TV show and movie libraries make them affordable cable alternatives. To save money, you need to evaluate their offerings and your television viewing habits, and then pick the options that best fit your needs.
Netflix vs. Hulu
Netflix is a paid service that provides programs without commercial interruptions. Typically, Netflix doesn't offer up-to-date episodes from current TV shows except for some new Netflix Original Series episodes and seasons. Hulu provides both free and paid services. However, at the time of publication, the content of both services is ad-supported and only a few select programs are commercial-free. Current episodes usually become available within a day or week after they air, but many episodes are only accessible with Hulu Plus or a cable subscription. You can create a watch list, display a history of your previously viewed content and receive "expiring soon" notifications on both Netflix and Hulu.
Streaming Considerations
Netflix and Hulu offer thousands of programs for about $10 a month per service, but they don't always save money. For example, they won't save you money if you continue to watch new content on one or more of the premium cable channels. Additionally, some Internet service providers suffer network congestion and delayed services, force bandwidth caps on their customers or actively interfere with streaming speeds. If you watch a lot of television, slow speeds and higher Internet access costs can negate any savings gained from Netflix's and Hulu's low subscription prices. If you don't already have a smart TV or a streaming player, you may need to add one, unless you plan to use the services only on a computer or mobile device.
Trial Offers
Try both streaming video services using free trials to determine their potential as cable replacements. You can try out Netflix for one month and Hulu Plus for a week to a month, depending on the available promotion, without paying for a subscription although you are asked to provide your credit card information. Go to each website (links in Resources), follow the on-screen instructions to sign up and then compare their programs and end-of-trial pricing to your cable channel lineup, viewing habits and cable pricing. Make a list of programs you currently watch that the services don't offer and note any you're willing to give up to save money. You can save additional money by picking only one service, so compare the programs offered on Netflix to the free and paid ones on Hulu.
Switching Services
When you're ready to switch, cancel your cable service and allow one or both trial periods to switch automatically to paid subscriptions. To view programs not available on Netflix or Hulu, consider alternative services like iTunes, Amazon Instant Video and Google Play. You can also cut your entire television bill by utilizing only free services. Connect your TV to a UHF/VHF antenna to receive local over-the-air network programming and get additional entertainment on the Internet from sites that offer free content, such as, Crackle and certain network sites like CW, NBC and MTV. Additionally, keep in mind that you don't have to completely replace cable. You can sometimes save money and keep the channels you want by removing unused services and channels, negotiating pricing with your cable provider, and asking for a customer loyalty discount.