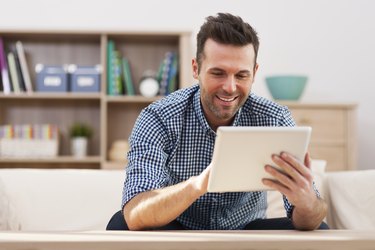 Sure, your iPad has enough fun applications to keep you occupied for hours. But eventually you're going to need to turn the device off, even if just to prove to naysayers that it hasn't become fused to your hands. So how do you do it? By pressing the Sleep/Wake button.
Turn Off Your iPad
Press and hold the "Sleep/Wake" button on the top of the device until a red button appears on its screen. Slide this virtual button across the screen in the indicated direction to turn the device off. It may taken a moment for the iPad to shut down completely.
To turn the iPad back on, all you need to do is press and hold the "Sleep/Wake" button again until you see the Apple logo on your screen.
Performing a Physical Reset
If the red slider button does not work or your iPad's screen is frozen, you can also turn the device off by performing a physical reset. This procedure may result in lost data, so only perform this type of reset as a last resort. Press and hold the "Home" and "Sleep/Wake" buttons simultaneously for at least 10 seconds or until the device turns off. The Home button is the large circular button located on the front of the device just below the iPad's screen.
Troubleshooting with AssistiveTouch
If your Sleep/Wake button stops working, you can also power off your iPad by activating the AssistiveTouch feature. Tap the "Settings" icon on the iPad's home screen to launch the Settings app. Tap "General," tap "Accessibility" and then tap "AssistiveTouch." Toggle the virtual switch to the On position to enable AssistiveTouch. You will now see an AssistiveTouch button floating on the iPad's screen. Tap it, tap "Device" and then press and hold "Lock Screen" until you see the red button appear on the screen. Slide the button to the Off position to turn off the iPad. With AssistiveTouch enabled, you need to plug your iPad in before you can power it back on. Take your iPad to your nearest authorized Apple repair location as soon as possible to have the Sleep/Wake button repaired.