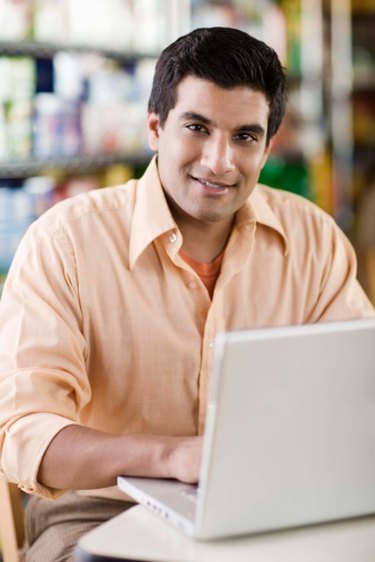 Modern laptops come with a scroll function built in to the touch pad. If you have just purchased your first laptop, you will notice the touch pad at the base near where it opens. If you run your finger across the touch pad, you will see the cursor on the computer page move. There are two buttons below the touch pad as well. There are two ways to scroll down a page on a laptop using your touch pad and buttons.
The Old-Fashioned Way
Step 1
Look for arrows on the right side of the page. One points up and one points down. There is a bar in the long, skinny area between arrows.
Step 2
Move your finger over your touch pad until the cursor is over an arrow, let's say the down arrow.
Step 3
Click the left button under your touch pad. It will click the arrow and make the page move down. Alternatively, you can grab the scroll bar (the gray bar between arrows) by clicking the left button, holding it, then dragging the bar up and down the page.
Touch Pad Control
Step 1
Look at your touch pad. Most laptops have marks on the touch pad on the right side and the bottom. These are so you can drag your finger across them and move the page accordingly.
Step 2
Put your finger on the top of the marker on the touch pad. Drag it downward, and the page will scroll down. Drag it upward, and the page will drag up. If this is not working, try changing your mouse settings.
Step 3
Go to the "Start" menu on your computer. Go to Mouse Settings. In that window, there is a tab called "Gestures." Click on that. Check the box that says, "Use Scroll Function."