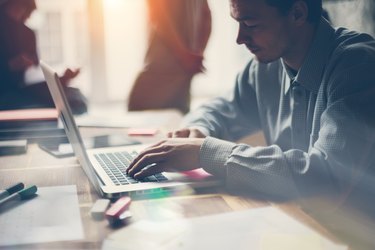 The scroll on your laptop is controlled by the trackpad installed on the system. If you are having problems with the scroll on your laptop's trackpad, there is something you can do before you take it into a computer repair shop. Updating the driver to the trackpad will enable the scroll if it is not working at all. Once the driver is updated, your scroll should work again. You can access the driver through the Device Manager on your laptop.
Step 1
Click the "Start" button, then click the "Search" option.
Step 2
Type "Device Manager" into the search bar and press the "Enter" button.
Step 3
Click on the "Device Manager" icon from the menu, then scroll down to the "Track Pad" icon on the left side of the screen.
Step 4
Click on the icon, then click the "Driver" tab at the top of the window. Click the "Update" driver option from the window.
Step 5
Wait for the new driver to install on your computer. This should take about two minutes to complete. A window will appear telling you that the driver has been installed.
Step 6
Put your fingers on the touchpad to move the mouse around on the screen.