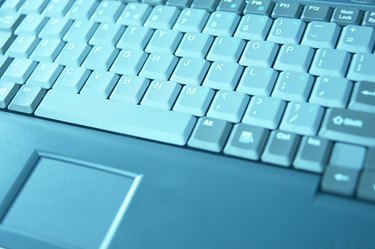 Like most modern laptops, IBM/Lenovo laptops feature a built-in touchpad that you can use as a substitute for an external mouse device. If you experience a non-functional or "locked" touchpad, then you have one of two possible problems; either the touchpad's drivers are corrupt or a user has manually locked the touchpad. In either case, you can unlock your touchpad and restore it to functionality quickly.
Reinstall Touchpad Driver
Step 1
Open your web browser and paste the following URL in the address bar:
Step 2
Click the "Download" button and then click "I agree" to save the Lenovo touchpad driver installation file to your computer.
Step 3
Double-click the EXE file that you downloaded. Doing so opens the driver's installation wizard.
Step 4
Follow the on-screen prompts to re-install your Lenovo's touchpad drivers. If your locked touchpad is due to a corrupt or outdated device driver, then your touchpad is now unlocked and functional.
Activate Touchpad
Step 1
Hold the Windows logo key and press the R key to open a run command box.
Step 2
Type "control mouse" in the box and press Enter. The Mouse Properties control panel window opens.
Step 3
Click the "Device Settings" tab.
Step 4
Click the Lenovo Touchpad in the "Devices" list and click the "Enable" button to activate the Touchpad.
Step 5
Click the "OK" button to save your changes. Your Lenovo's touchpad is unlocked and ready for use.