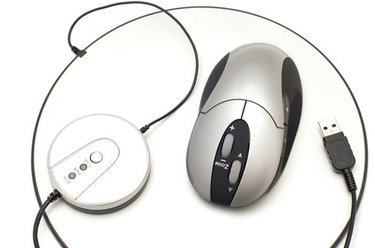 There are 2 primary reasons your Toshiba laptop touchpad might not be functioning. You or someone else using your computer may have accidentally disabled it, or the driver may have stopped working. There is also a chance--although slight--that the hardware connections have come loose. This is the least likely situation, however, and would probably only happen if the laptop suffered severe damage. Enabling the touchpad is a simple process on any Toshiba laptop, and re-installing the touchpad driver is only slightly more complicated.
Step 1
Press the "Fn" and "F9" keys simultaneously.
Step 2
Test your touchpad. If it works, it was simply disabled. Press the same key combination any time you want to toggle your touchpad on or off.
Step 3
Plug an external mouse into a USB port on your laptop if the key combination didn't work. Follow onscreen prompts to install the mouse driver--if necessary. You can also move the cursor using the "Tab" key and the arrow keys, as well as click by pressing "Enter" until the mouse is operational.
Step 4
Click the link in the Resources section if you are using a Toshiba Satellite with Windows Vista. Follow the onscreen prompts to download and re-install the driver.
Step 5
Open a web browser and navigate to Synaptics.com if you have a different Toshiba model or operating system. Synaptics brand touchpads are used in all Toshiba laptops, and this site provides a generic driver.
Step 6
Hover your mouse over "Support" on the top menu, then select "Drivers" from the drop-down menu.
Step 7
Select your operating system from the list provided and download the generic driver.
Step 8
Follow the onscreen prompts to install your new driver, and then test the touchpad again. If it still does not work, take your laptop to a licensed repair technician.