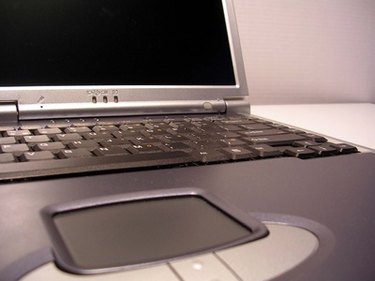 Laptop touchpads have become extremely accurate at detecting user input. So much so that the slightest brush of a finger can be detected. For fast typists or for those who like to rest their palms as they type, this sensitivity could cause a problem because their typing could be disrupted by the cursor moving somewhere else due to unintended input. Some people just prefer to use a regular mouse rather than a touchpad. Regardless of the situation, you can disable the touchpad through the laptop's BIOS settings.
Step 1
Turn on your laptop. Immediately start pressing either the "F2" or the "F10" key to enter your laptop's BIOS settings. If neither of these function keys works, look at the screen for instructions on how to enter the BIOS settings during the booting process.
Step 2
Use your laptop's keyboard to navigate to the "Advanced" BIOS tab. Highlight either "System Properties," "Keyboard/Mouse features" or "Device Options" and press the "Enter" key.
Step 3
Find the line that reads "Internal Pointing Device." Use the arrow keys on your keyboard to highlight the "Enable/Disable" option. Press the "Enter" key after you have highlighted the option and choose to "Disable."
Step 4
Press the "Escape" key on your keyboard to go back to the root BIOS menu. Go to the "Exit" menu and choose the "Save Changes and Exit" option. The touchpad should now be disabled.