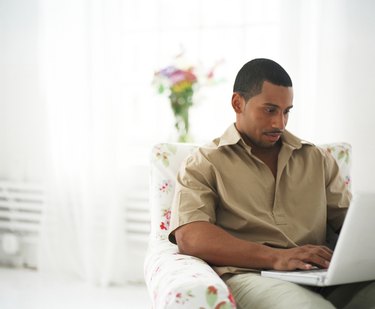 Toshiba laptops are equipped with highly sophisticated touchpads that detect minute swipes with great accuracy. However, this same accuracy could be a detriment if users prefer to rest their palms while typing or if they simply are fast typists. The smallest touch could be registered as input and possibly create errors in the typing. There are multiple options available to disable the touchpad and avoid such input.
Using the Function Key
Step 1
Look for the "Function" key at the bottom row of your laptop's keyboard. It is typically next to the "Windows" key.
Step 2
Press and hold the "Function" key and, after doing so, press the "F9" key. Toshiba programmed this function to disable or enable the touchpad quickly.
Step 3
Swipe the touchpad to confirm that the touchpad is turned off. The onscreen cursor should not move.
Using the BIOS Settings
Step 1
Turn your laptop on and immediately start pressing the "F2" key. Look for onscreen instructions during the booting process on how to enter the BIOS settings if the "F2" key doesn't work.
Step 2
Highlight the "Advanced" tab in the BIOS settings with the laptop's keyboard, because the BIOS lacks a mouse cursor.
Step 3
Choose the "System Configurations" option from the list. Find the "Internal Pointing Device" line from the "System Configurations" menu.
Step 4
Change the "Enable" option to "Disable." Press the "Escape" key to return to the root BIOS menu.
Step 5
Choose "Save Changes and Exit." The touchpad should now be disabled.
Using the Mouse Settings
Step 1
Click "Start" and click on "Control Panel" from the Start Menu.
Step 2
Click on "Hardware and Sound" and, when the menu opens, click on the "Mouse" option.
Step 3
Click on the "Device Manager" tab and highlight the touchpad. Click "Disable" to disable the touchpad. Click "OK" if a prompt pops up. The touchpad should now be disabled and can be enabled by clicking "Enable."
Warning
The BIOS method of disabling the touchpad requires the user to restart the laptop to enable the touchscreen again. Use the BIOS method only if you have a substitute for the touchpad or do not want to use the mouse cursor at all.